It seems like my trip is a lot about Volcanos. I started in Panama, then had more in Costa Rica and later in Nicaragua at Ometepe. However that was just the beginning.
All those times I have never seen the top of any volcano, never seen the full silhouette of any of those perfect volcanic shapes. Even when I arrived to Granada, Volcan Mombacho was covered with clouds. A few days later however the clouds were gone and we went up. Not exactly a hike, as we took a pick-up, but still a trip to the top of a slightly active volcano.
Then I saw a lot more volcano shapes going from Granada to Leon and watching the volcano line from the Leon fortress.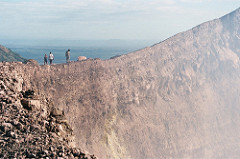 A two day hike to Volcan Telica was my first real experience with and active volcano. The size of it. The smell of it. And most importantly the sound of it is simple incredible. It sounds like if three aeroplanes were catching each other down in the crater. Then the crater by night – all the red lava glow. All seemed like from another world.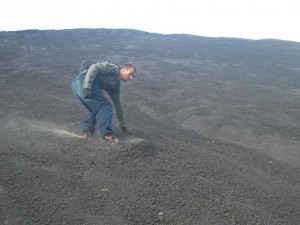 Then a bit different experience – Cerro Negro. This is Central America's second youngest volcano, erupting roughly every 10 years since 1850. But the ultimate tourist attraction there is sand boarding. I have seen a couple of injured people coming back from boarding, but most of them wend down sitting, doing 70km/h. I decided I have to go standing – it is snowboarder's pride to at least try, even though it is totally different from snowboarding and I kept falling down almost at every turn.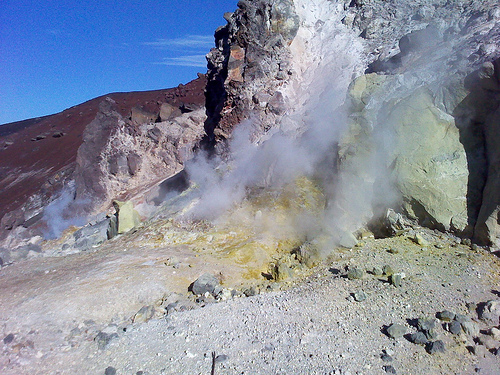 Anyway, the most adrenalin I got from that trip was from getting there and back. We went on a motorbike. My driver was 20 years old. Getting through Leon traffic, I was already not sure I would not die on this trip. Then the road just kept getting worse. The driver enjoyed driving on the left side, even in left turns with no visibility. The paved road changed to dirt and then to deep black sand. We were constantly sliding to either of the sides and he thought that more speed would cure all these problems. The first time we almost head hit pair of bulls pulling carriage I just wished that they did not have such long horns. I was wearing shorts and no helmet. At Cerro Negro this "professional" driver showed me some of his scarfs and injuries, all of them from motorbike accidents, that was not reassuring either. The fact, that coming back in dark we did not have any light but still kept the same driving style did not surprise me anymore. I don't believe I had ever before hold so hard to any other men, much less so sweaty one. I think I got really lucky to survive this – if I ever plan to go somewhere on a moto, please remind me of this experience.