So my original plan was to spend a week in Costa Rica. Turns out to be 6 weeks.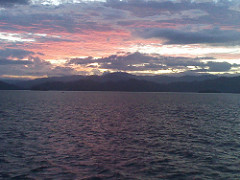 After Puerto Viejo and some volcano climbing near San Jose I headed to the beaches of Peninsula Nicoya. It is a peninsula, but feels like an island. Ferry over Nicoya bay takes 90min and it is the only reasonable way to get there if you don't have a good off-road car.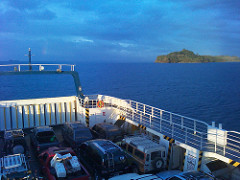 Both ways I took the last ferry and both times the sunsets were amazing. On the way there the sunset had a few storms mixed in. So much so, that the bus driver refused to go to the final destination, because of the wet roads and left us in the dark night somewhere halfway. I took the opportunity to visit Montezuma and got on a different bus the next morning. As it turned out the bus driver was right. The road was seriously damaged by the storms: sometimes half of the road was washed away, sometimes land slides or fallen huge trees blocked the road. Anyway I made it to Santa Teresa finally.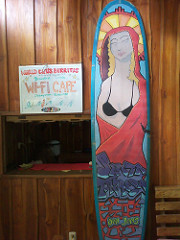 First five days I stayed in a hostel owned by Barbora Seidlova's sister. Quite a surprise to hear Czech after a few months traveling. Then I was politely kicked out and moved to Don Jon's, the best hostel in Santa Teresa. It took me more than 3 weeks and 60 beers to leave. I really liked the place and even more the people.
One minor problem was, that I got ear infection from the sea while surfing. The pain was bad, the doctor's bills were worse and the fact that I was forbidden to go into the water for the time I was taking antibiotics was the worst. Then after restarting surfing, I got the same thing again. It was time to leave the shore for a while.
After a brief stop in San Jose I headed to La Fortuna/ Volcan Arenal. This is the volcano, that erupted heavily in '68 on the day of JFK came to visit Costa Rica. Today unfortunately the volcano is calm and is not spilling lava at night. Even worse, all the time I stayed in La Fortuna, it was raining or almost raining, so I have never got to see the whole volcano, the top always being in the clouds.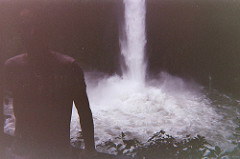 But there are other things to see there. One day I set up for a 'triathlon': hired bike up the volcano slope, swim in strong current near 50m high waterfall, hike back to the bike, bike downhill in tropical rain (going faster than cars). Nobody was swimming there, but I still regret no swimming in the waterfall of El Nancito, so I decided never to the same mistake again. Somehow I remembered too late the old wisdom: "it's better to regret what we have done than to regret what we have not done". Better late then later.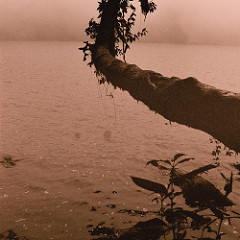 Another day we hiked up the Cerro Chato, the volcano next to Arenal. Quite a hike up in tropical forest.
Then I took the 'Jeep-Boat-Jeep' trip from Sleepers hostel in La Fortuna to Sleepers hostel in Monteverde. This should be very scenic with views of volcano, but due to the still awful weather I have not seen the volcano at all.
Monteverde is a place where it constantly rains. Even when the sun is shining. But after one day of waiting the impossible happened: one day of sunshine (ok, there was a rain before 8am, but what happens before breakfast does not count to me). I finally caught the opportunity to the thing I came here in the first place. Unfortunately, I do not have a video of myself doing it. But this is very close to my performance, except for the minor fact, that I did not make a sound.
The whole experience was quite pleasant adrenalin fix. The hardest part was when the opened the gate. I didn't know what to do. I asked if I should jump. They said "No, only bend your knees". And then they pushed me. Silent "aaaaa".
The next day I was ready to leave Costa Rica. 3 different buses to the border. Then the nightmare. First I was changing the money and the guy constantly tried to scam me. He gave me a reasonable exchange rate, but somehow even though he had calculator he insisted that 50 time 38 is 1200. Then gave me 1500. The finally we got a deal after I took my calculator and refused to pay him before I get the whole amount first. But why do you always have to watch them so carefully? Probably because of my skin color.
Then there were about 20 people insisting I have to by a form from them, because that form is required to exit Costa Rica. Partially true, it is required, but it is for free once you make it inside the building after waiting for 1 hour with the form sellers outside.
Exiting Costa Rica was easy and cheap compared to entering Nicaragua. There also a form is required and can be bought. I can not imagine, who would fall into the form selling scam for the second time in the same border,… but it looked like this form business is going on well.
Then the immigration officer did not like a bit of paper of one of my passport page missing. Little it helped to explain that it got torn out by stupid US officer on one of my visa visits to US (actually I think it was worse explaining then not explaining). 1 hour later he told me to go to the office to check what is going on with my passport investigation. Another hour later boss of the boss has arrived to briefly examine the horrible one cm2 of paper missing and finally said "for god sake, let him go".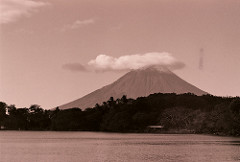 The problem was that by that time, all the taxis that promised $20 ride to the ferry were gone and only 2 buses were left. I got scammed like 5 times. The final touch was I got my money back from one of the guys, made him angry, payed to the second bus drive only about half of the price and got on the bus. But unfortunately the scammer got on the bus and was really upset with my behavior. A few screams later, half an hour and fortunately no more money I finally got to Rivas. I got a taxi that was speeding through carnival crowds only for me to catch the last ferry. I made it, with 5min contingency. Welcome to Ometepe, Nicaragua.
More to come later.