It is exactly one year since I started my "gap year" traveling on 2nd September 2011. Now I'm back and settling in the "normal" life again. So it is time to close this trip and stop blogging for some time. Here is a little debrief.
When I started I had three objectives: to learn Spanish, learn surfing and climb the highest mountain of the world. One year later I do speak Spanish good enough to have almost fluent conversations. Not quite good enough to use the subjuntivo at the right places and sometimes with horribly Latin American accent (sin zetas). Surfing is a different story. I did catch a few waves, on mostly long boards and beach breaks, but I am very far from being able to say I learned surfing. And I did climb the mountain. So overall it is not a clean and clear success on all three objectives, but I'm satisfied with the results.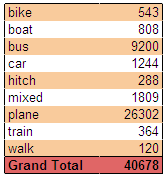 Now a bit of statistics. I was keeping the almost real-time map of places where I stay. Now I have archived it here. It was not perfect, but over the year I have done 173 pins on the map. The total distance between these pins is almost exactly the perimeter of Earth. The break-down of individual means of transport are on the right. Yes, more than a half is the flights from and to Europe. On the other hand, if not flying or sailing the actual distance traveled between two pins might be as much as twice the numbers shown, because roads especially in South American mountains do not tend to be straight lines (in any dimension).
I have written 46 blog posts. Which roughly corresponds to 40.000 words.
I have started the trip with 2 film cameras and a digital camera in my phone. I killed one camera quite soon, but the other one survived about 20 rolls of film (still unsorted on my table).
I have read 30 and a half books.
I have totally worn out one pair of shoes and one pair of pants.
I have tasted many new kinds of fruit and have done other stuff for which no statistics can ever describe the real experience…
After 354 days on the road and 12 days acclimatizing back in Prague the year is done and it is time to move on.
PS: I reacquired my flat, so all of you, my traveling friends, consider the Prague couch opened.