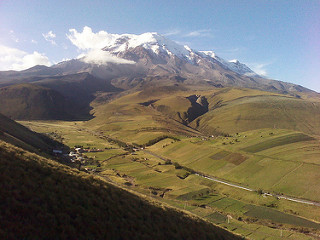 Chimborazo is the highest mountain of the world. Well, sort of. The highest mountain of the world measured from the sea level is of course Mount Everest. But measured from the Earth center, it is Chimborazo, because the Earth is not a perfect sphere. For completeness, there is also the tallest mountain of the world in Hawaii. For better explanation see here.
Passing through Ecuador I thought it would be a good idea to climb the highest mountain of the world. Even better that it has "only" 6300m.
So I went to Riobamba and shopped around for the best tour company. I got a few offers of the sort:
We will get you there no matter what, no questions asked. 100USD
And a few of the sort:
You need a long acclimatization, it is dangerous, but we can propose you acclimatization package which will only cost you around 1500USD.
Well I´m not stupid enough for the first and not rich enough for the second. After 2 days I finally found Andean Adventures. Quite reasonably the charge 240USD for equipment rental, transportation, one meal before ascent and a guide for the ascent. They gave me the equipment a few days earlier free of charge and they recommended me places where I could go without a guide for acclimatization.
When/if your browser processes JavaScript on this page, there will be interactive map here showing the track(s) in gpx file(s) listed underneath. Alternatively you can download them and open them in any gpx-viewing software you wish.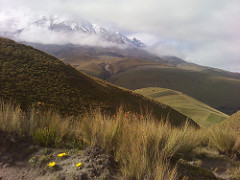 First 2 nights I spent in Casa del Condor at 3800m. I made a short hike to 4000m on the arrival day. Nothing special, I got lost a bit. The second day I made a longer hike to 4800m to Templo Machay – natural cave/temple on the side of Chimborazo. There was no snow there, but the next morning I could see from Casa del Condor that the same places I hiked the day before were suddenly covered by snow.
When/if your browser processes JavaScript on this page, there will be interactive map here showing the track(s) in gpx file(s) listed underneath. Alternatively you can download them and open them in any gpx-viewing software you wish.
The 3rd day I hitchhiked up to the Park Entrance. The park rangers refused to let me in because the previous night one climber died on the mountain and police were still investigating the case. There were two versions how it happened. They were two experienced climbers from Spain. They set up at the usual 11pm time. At 3am the luckier one came back to refugio and announced that his friend was dead. Now one version says he got hit by a falling rock under El Castillo and then he fell 60m down. The other version says he slipped, fell down 60m and only then cracked his head on a rock. Either way they made two fatal mistakes – they did not tight themselves together with a rope and they did not have a guide.
Four hours later 20 policemen and 10 medics finally brought the body down. After that the park reopened for climbers with guides. I did not have a guide at that time, he was supposed to come 2 days later after I acclimatize. I said I only want to get in for acclimatization, but apparently the Spanish climbers also said they were not going to climb without a guide, that they were only coming for acclimatization, so the park rangers did not believe me. Fortunately one of the guides said he was my guide for the hike to the refugio and that he will make sure that I do not continue to the peak. They finally let me in.
The first night I spent at the lower Hermanos Carrel Refugio, at 4800m. Nice place and there was even unexpected luxury of fire at the fireplace, running water at the toilet and 3 hours of electricity in the evening. That night 2 groups attempted to summit. The Ecuadorian guy with his (and sort of mine) guide made it (it was his second attempt that week, the first time he brought his girlfriend who got altitude sickness in 5700m and had to return). The two Australians with a guide made it to 5700m, gave up and came exhausted back, although they were super motivated and even brought Australian flag with them to photograph at the summit.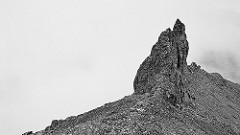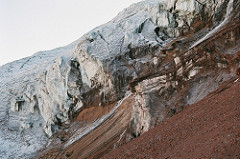 The next day I moved to Edward Whymper Refugio at 5000m. From there I also hiked to Agujas de Whymper and a little bit above to about 5400m. There I was I bit scared to be hiking solo especially after I heard the thunderstorm just bellow me. I got the first nice views of the glacier there.
When/if your browser processes JavaScript on this page, there will be interactive map here showing the track(s) in gpx file(s) listed underneath. Alternatively you can download them and open them in any gpx-viewing software you wish.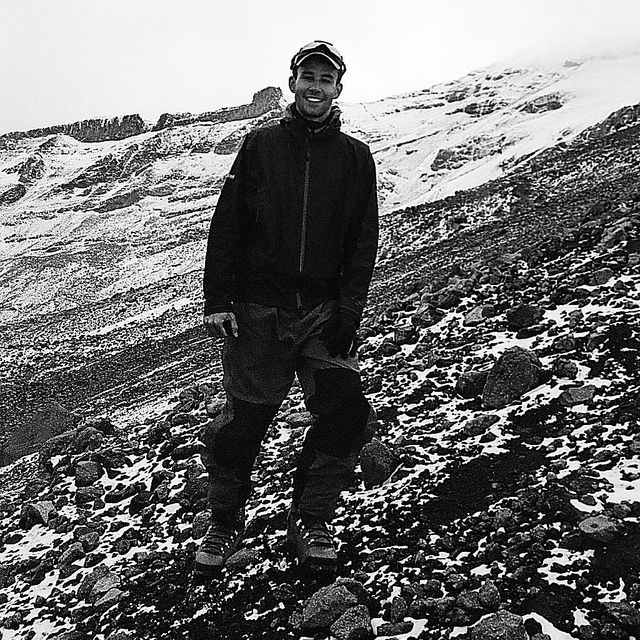 That night I was left alone at the Refugio. The guardian went to sleep in the other refugio. Now this was a bit of experience by itself. There was absolute silence, no electricity, no toilet, one candle. I closed the doors, went to bed and hoped for fast falling asleep. At night I was woken up by a noise of the front door opening. But I could not hear anyone walking downstairs. Even worse I needed to pee. I lighted up the candle and went downstairs. I saw the door was opened, the next second the candle died. I had to remind myself I did not believe in ghosts of dead climbers. I went outside to pee and then closed the door better.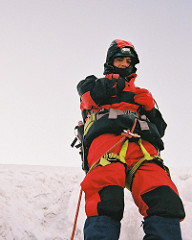 The same night my guide Julio climbed up with another climber – Peter. They made it for sure to the first peak at 6200m, but I did not understand what the story about the real peak was. One said they reached it, the other one said they did not.
The next day I did nothing. I tried to read, tried to sleep during the day without much success. Julio slept well after the climb with Peter. Later he told me that even the night before Peter he climbed another Ecuadorian volcano. I have no idea how he does it.
At 5pm he woke me up to eat dinner he had prepared, then I tried to sleep a bit more. At 10pm we got up, ate breakfast!, dressed up and set off at 11pm.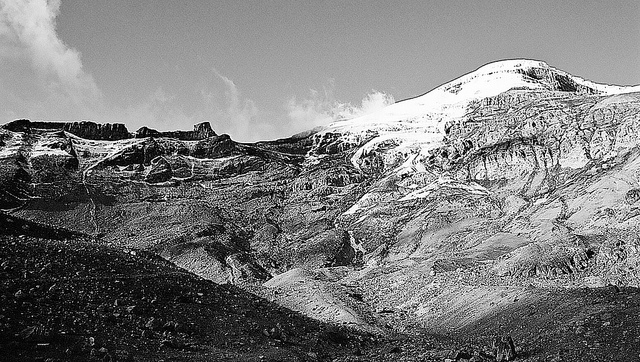 We walked really slowly from the begging. At about 5300m we put on the crampons. Walking became more difficult. At about 5400m a big stone flew next to us. We lay down as more stones were falling. Fortunately no hit. Then Julio said we should go fast through this dangerous area, but I already had breathing problems so it was not exactly a sprint. At El Castillo at about 5500m we had a 10min break. After another 200m the glacier finally started, no more walking on the stones with crampons on.
The slope was about 45 degrees. Just about the slope when you do not know if it is better to stand on two legs or use the hands too. I did not see much with the head lamp, but enough to comfortably jump over the ice cracks, some of which were really deep. It was harder and harder to breath. I very often needed a break. Every time I was told "¡Tranquilizate!", which is easier said than done.
I got into a sort of video-game mood, except of course I had only one life. The guide was announcing levels: 5700m, 5800m, 5900m… It was getting harder and harder but on the other hand I wanted to get to the next levels and I never wanted to go back. All I needed was to stop every few steps and get extra few deep breaths. After that I was again ready to continue. It was not really cold either. A bit of snow falling (from the sky) at 4800m, but soon we were above. A bit of cold on the toes, but not worse that skiing in bad boots.
We made it to the falso cumbre at 6200m. Then walking to the real peak is another kilometer, a bit down and than about 150m up. We got there at 5:21am, too early for sunrise unfortunately. Waiting for sunrise was not an option as there it was really cold there because of the strong wind. After 10min we started descending, this time I went in front.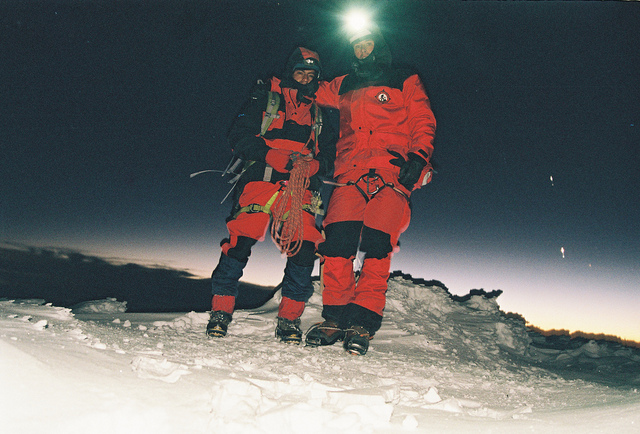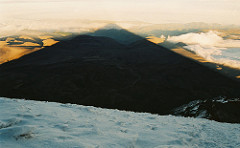 Before we returned to the first peak it was already very light, so the headlamps were no longer needed. Then we started the real descent down the glacier. This time I could actually see how steep it really was. I was instructed how to descend with crampons on ice effectively, but I just could not do it. I became really exhausted. I needed more brakes coming down than going up, even after the air became more thick, because my knees were slowly giving up. The guide said we should hurry up (actually down) because we needed to pass the dangerous part bellow El Castillo before the sun would start to melt the ice, then the rocks would be falling like crazy. Well, I tried.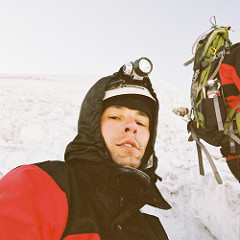 We made it down with only one big rock falling between me and Julio, luckily no hit again. I was at the Whymper at round 9am, mostly unable to pack and descend to the other refugio, but I really did not want to stay another night. On the way back to Riobamba I passed out in the taxi, but they woke me up when the taxi got a flat tire and I had to get out. When I finally got into town at about noon I put all my stinky clothes to laundry and fall asleep for the whole afternoon. This did not stop me from happily sleeping the whole night too.