On the Peru-Ecuador border I fell in a classic tourist scam. A taxi driver claimed I have to get the exit stamp before going on bus. I did not believe, so we went to ask a "policeman" who was actually a private security guy and he confirmed the story. They said I need an exit stamp before boarding the bus to whatever town in Ecuador. We agreed on a price "40" for the ride, including also a bus ticket to Loja.
It all turned to be partially true. We went to the immigration, then to the bus station and I got the ticket. And I needed the stamp prior to boarding that bus. But I was on the other side of the boarder so he claimed the agreed price is in USD. The proper way to do this is to take an international bus from Peru to Ecuador that stops at the immigration office. Well, next time I'll know better.
There is not much to do in Loja. I only stayed one night. It took me some time to figure out where anything was happening on SATURDAY night, but in the end I found a reasonably good latino rock concert.
I got to talk to 5sec Fredy. 5sec Fredy was so drunk, that he could not remember almost anything. Except for the fact that I went to his home near Punta Balcones. The conversation went forever in circles:
What's your name?
…
Where are you from?
Czech Republic.
What have you done in Peru?
I went to Punta Balcones.
I'm from Punta Balcones! I can't believe you went there. Sorry, what is your name?
…
And you are from Denmark, right?
No, Czech actually.
Ahhh, ok, and what is your name?
…
I can't believe you went to Punta Balcones. Did you know I was from there? Not many Danish go to Punta Balcones. What is your name?
When the concert finished and 5sec Fredy went to the toilet I quietly left the place. The Danish are so rude.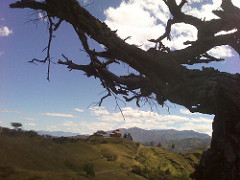 Next stop was Vilcabamba. Lovely little town in the south. Hostal Izhcayluma proved to be a really good choice. There was a crowd of mostly solo travellers, good bar atmosphere and good hiking opportunities around.
When/if your browser processes JavaScript on this page, there will be interactive map here showing the track(s) in gpx file(s) listed underneath. Alternatively you can download them and open them in any gpx-viewing software you wish.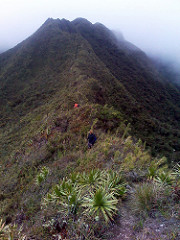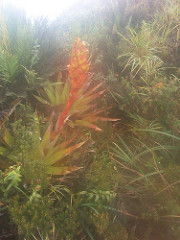 I went for a little hike close to the hostel. Later we went to Parque Nacional Podocarpus with a small group. We climbed up to 3500m in rain and wind, but got some nice views on the way back.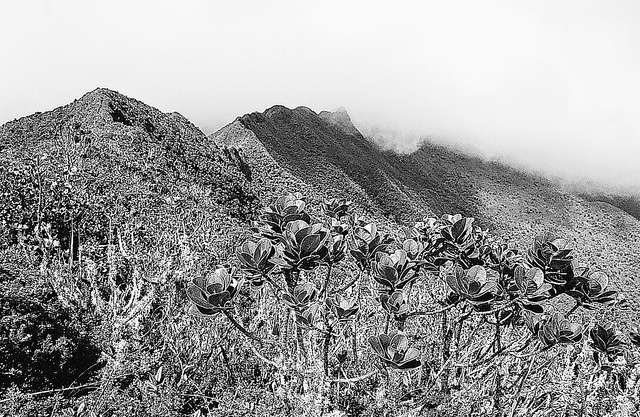 Next stop – Cuenca – is a super nice colonial town with excellent night life and not so excellent museums. Instead of going to the nearby Parque Nacional Cajas I borrowed the hostel owner's bike and went for a ride. Climbing to 2700m was not easy, but then I followed some kind of water canal so the altitude was bearable.
The dogs on the contrary were really annoying. I learned how to handle attacking dogs while hiking. You just have to pick up a stone, or if there is no stone then simply pretend to pick up a stone, and the dog usually gets it. While riding a bike this trick does not work. Speed works better, but unfortunately only downhill. I have no idea how the local cyclists do it, you probably have to carry a gun or at least a machete. Fortunately I got bitten only once and mostly on my shoe.
When/if your browser processes JavaScript on this page, there will be interactive map here showing the track(s) in gpx file(s) listed underneath. Alternatively you can download them and open them in any gpx-viewing software you wish.