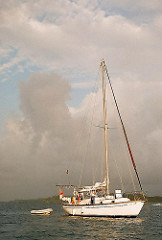 Almost a year ago I went with Ewan to Portobelo on the Caribbean side of Panama. This was my first trip in Panama actually. There in Captain Jack's I met people that had come to Panama with a sailboat from Colombia. I learned how this works and that it is the most sensible way how to travel between these two countries (other options are a flight for almost as much money but much less fun or crossing by land with probably too much "fun"). I decided back than that this is the Way I will return to Panama when my trip loops.
Fast forward 10 months.
I was looking for a boat in Cartagena. Most boats charge 550 USD. They vary in comfort, speed, days spent in San Blas, crew experience etc. They also don't leave every day, so having a flight to Europe from Panama forced me to plan a bit. I asked in an agency, but was not super happy by the offer. They told me I could also go to the port where all the boats are leaving from. Once knowing this key info I went there and asked around. This is how I find Island Fever.
Island Fever is 41 feet (13 meter) long sail boat. It takes 9 passengers and 2 crew. It is officially registered in Germany, owned by some German guy. The captain is Israel de la Asuncion from Barcelona and currently he sails with his sister as second crew member.
I loved this boat. And I really recommend sailing with it. (Don't get discouraged by some bad reviews of Island Fever on the internet, such as this one, which refers to Island Fever being sailed by different captain.)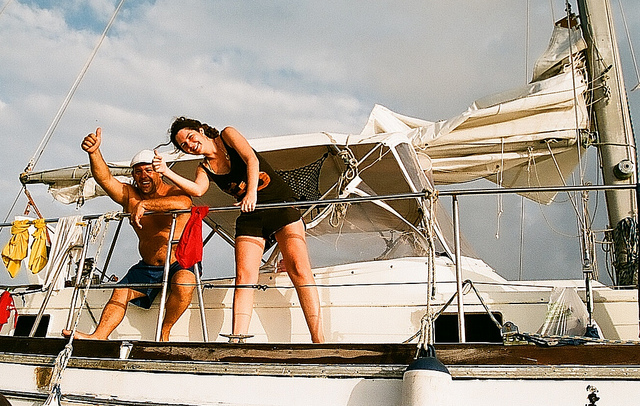 Now how did the actual sailing go? First we went o buy some beer. Then we headed off. We went through the Boca Grande of Cartagena. This is where the Spanish built underwater wall to crash all boats who would try to enter the port and attack the city. There is only about 20m in the middle where boats can sail through and this is marked by two buoys.
Then we were on the open sea. We passed some shallow reef adjusted the course for San Blas and began the longest straight passage of this trip. 44 hours or about 360 km without seeing much. The first day everything was a bit new. People started taking sea-sickness pills, I had a few beers (I did not invest in the pills as this was my first sailboat trip and I hoped I would be sea-sickness immune). The first night was hard. I had a night long sensation of not sleeping at all in the always moving bed. But I believe I did sleep a bit. I woke up early in the morning when most people were still sleeping, but the sun was already a bit up. There was absolutely nothing to be seen anywhere. Not even a cargo ship. I went to try to sleep in the moving bed again.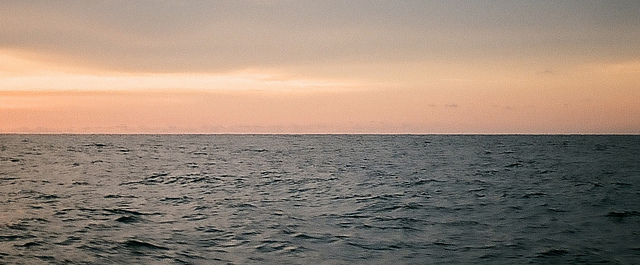 I woke up an about 10am with the engine suddenly slowing down (yes, we were sailing with sails and engine as the wind was not strong enough). I went up and saw a huge military ship next to us. What is going on? It was US Marines. Our captain asked them to keep their distance and in turn the were asking for all the details about our boat.
Captain, what us the boat name and registration?
Island Fever, registered in Germany in Freiburg.
What is your name, nationality and date of birth captain?
Israel de la Asuncion, Spanish, …
What are the nationalities of passengers?
after a long pause and counting> We have 3 French, 1 Israeli, 1 German, 1 US, 1 Argentinian, 1 Peruvian and 1 Czechoslovakian.
Is the boat owner on board?
No. But I have all the documents on board including the owners authorization to use his boat…
And so on. Until they decide it was enough and left. And we could continue with breakfast.
That day the sea was calm. I was having a talk at the back when suddenly just next to the boat the dolphin jumped out of water. I lost my speech for some time.
At night there was the lightning plankton all around the ship. Like hundreds of starts in the water. And there were hundreds of stars above too. We all got more or less used to the boat movement. That night I slept like a baby.
The next morning I got up when we were already anchored at San Blas. The more enjoyable part of the trip began. We swam to the nearby island, explored it, some went snorkeling around. Oriel, a Kuna man, came and sold us some fish for lunch. We slept anchored there.
The next morning we moved to another anchorage between two other island. The same thing all over again. Except the dinner was a langusta with coconut rice served on the island.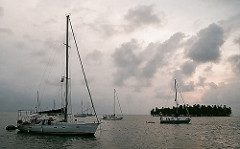 The next morning I woke up with a strong sound of wind. I jumped to the board to catch my swimming shorts before they would be blown away. The storm was coming. Before I could catch anything more I was ordered to go down in the boat. The cups became flying, the iPods and the like too. The storm was so strong that the anchor could not keep us steady. And that is a problem when there is reef all around and other moving boats too. We almost crash with the boat of the french guy who had given us some couscous the night before, because he went down his boat just at the time both boats started to be dragged by the wind. But Israel ran to the front of the boat and pushed the other boat away with his body. That was close.
Most boats moved a lot. Except for the one whose captain was not there. How lucky. One boat moved from one island almost to the other one. Passing the reef by a few feet and stopping within a few feet from the beach. This was the only boat where neither the captain not anybody else woke up to fight the storm. When the finally woke up, they looked surprised. How lucky again.
We lost the paddles from the dingy which got turned up side down. But the captain of another boat found our paddles at the beach of the other island. How lucky again. Now harm was done to any of the 15 boats present.
After the storm we moved again to another island. This one with and airport. On the way we saw one big turtle swimming along. We played some beach volleyball on the airport island, got stamps in passports, played some games on the boat, slept and in the morning we left with a Kuna "speed" boat to mainland. Then 2 hours of jeep to Panama City. And the trip has looped finally.