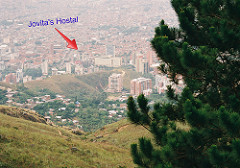 Forget Cuba. Cali or Santiago de Cali is the true capital of salsa.
Once I found the salsa hostel in Cali (Jovita's) I started taking salsa classes and dancing. The day schedule was totally different from whatever I had experienced before on this trip. Sleep all morning. Group salsa lesson in the early afternoon, individual lesson in late afternoon or vice versa. Siesta. Salsa practice at night. Sleep all morning. Repeat. Repeat…
At night there is generally one place for each week day where everybody goes. So it is Las Brisas Mondays, Mi Tiera Tuesdays, Tin Tin Deo Thursdays,…
The hostel crowd was exceptionally great. I really had fun. Francy, the dance teacher, obviously can dance, but also is a good teacher as she managed to get even such untalented guy as me to learn a few basic steps.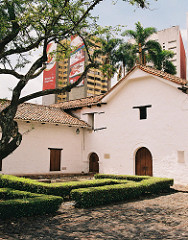 Except for the salsa, there is almost nothing in Cali. The old town is a few old buildings scattered between ugly new ones. So after a few tries I totally gave up on standard tourism and just went with the salsa beat.
On Thursday though, we made the effort, got up early and hiked the mountain all the way up to the three crosses. Then we came back and continued with the salsa schedule. On Friday I could not walk.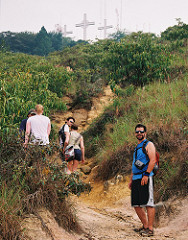 For the weekend we left Cali and went to a beach near Buenaventura on the Pacific coast. We planed to stop in another town on the way, but plans had to change. We got on a bus, paid and I was getting ready to sleep all the trip. The bus however stopped at the nearest gas station and they started pumping water on the engine. Then we went for about 20 minutes until we stopped again for more water. Then 10 minutes more and more water. At this point we were asking to get the money back to catch a different bus. We were repeatedly assured everything was going to be fine. It was agreed that if another stop is made, we would get the money and could go. 5 minutes later there was smoke in the bus and it was obvious the thing cannot move any more. So after 2 hours we have not even made it to the famous Kilometro 18, which is as one would guess only 18km from Cali.
The second bus made it to Buenaventura. Then we bought a boat ticket and were told that the first stop was our destination. We reached the first stop and it was the worst beach slum I have ever seen. Everybody from our group hoped this was not our stop. Luckily it was not. The next stop was not much better. Again we hoped this was not our stop, we even pretended it was not our stop after we knew it was. But it did not work because it was the last stop of the boat.
The beach was so ugly, with all plastic bags floating between glass bottles and sharp cans that the first day I did not go in the water. But we found a nice cabaña with beach speakers playing mostly reggaeton, started drinking ron and had a good time. I hope that that drunk beach bachata dancing video will never make it to the internet.
The next day the trash moved inland with the tide so I could step over and finally had a swim. Still it is nowhere as pleasant as the Pacific beaches of Central America I was used to.