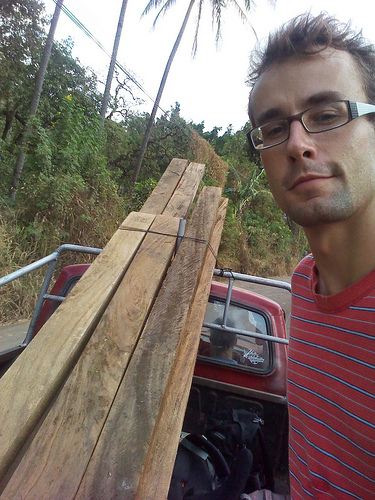 It has been 6 days since I have not stopped in any place for more than one night. Hitchhiking on pick-up vans does not excite me any more as much as it did back in Panama, but still it is a nice way how not to sweat while travelling. I thought I was already used to central american "hitting the road", but this time I got a few new surprises.
I left Playa El Tunco without swimsuit and one of my 4 t-shirts. That was not a good start.
Then in Santa Ana I saw my bus sitting at the terminal and I thought I have time before it leaves. The next time I looked, it was already gone. I ran out of the terminal after the bus, caught a green bus, paid for getting to "the border". 2 hours later I was at the border, but different one that I wanted to. At least it was still border with Guatemala.
I intended to get to Chiquimula after crossing the right border at Anguiatu, so even there at San Cristobal I asked for a minivan going there. No se preocupe. You'll get there even from here. Fine I thought for a while.
I was sitting in the back of the van when we suddenly stopped in the middle of nowhere. Another similar van stopped in opposite direction. The driver told me that I have to change here. So I did.
I put my backpack at the back of the van and wanted to enter by the passenger door. The van was so packed that I could not. The driver told me to stand in the back next to my back pack and closed the door. I was squeezed there like a piece of oversize luggage. The last row of seats pushed my ass against the rear window. The van was not high enough for me to stand straight so I had to bend forward and support myself by holding the last but one row of seats. Not to comfortable. Even worse, I could not see outside. On the plus side, I had an exclusive view of some a pair of wonders. Y estas no habían sido hechas. But my neck hurt next day.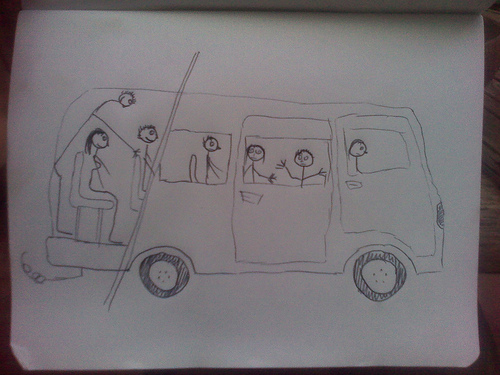 Chiquimula to Rio Dulce was a boring bus-hoping as usual. Just that by another accident I got to see the center of Zacapa instead of just passing by the highway around.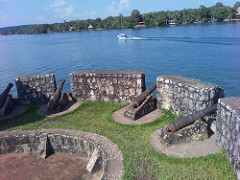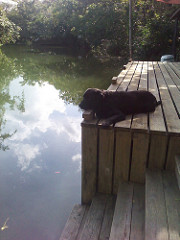 Rio Dulce was fun. The hostel was super tranquillo. The nice bit was, that the boat to Livingston came to pick me up right at the hostel. Bear was waiting for it with me.
The boat down the Golfete and Rio was super nice. Just I have sun burnt my right hand.
Livingston was super nice village. The first of Garifuna settlements on my way.
It rained the whole night. It still was raining a bit in the morning, but much worse, it was windy. I wasn't even sure the 7am boat would leave in such weather. It did. But I still wasn't sure it is going to reach the destination.
The first couple of minutes we were going straight against 2m waves. Every wave hit the front of the little boat splashing water all over the boat and the passengers. We had the "exclusive" front row seats, so we got the most of it. I was soaking wet in the first 30 seconds and could not see much as the sea water was coming in my eyes.
Next we turned left and accelerated. This was slightly better water wise as only every tenth wave sprayed me, but was much less comfortable anyway. We were literally jumping from one wave to another. Every time we hit the water it would feel like jumping on a hard chair from second floor. The next day I could hardly sit on my ass.
The journey should take 90 minutes, but due to the weather and occasional slow down when the jumps were too big, we arrived to Belize 2 hours later, totally soaked including the back packs. Cell phone soaked, clothes soaked, only the passport had made in dry. The immigration officers were just laughing at as and let us enter with no problems.
I had to take another boat to Placencia the same day, but luckily the weather there was much nicer and my ass did not get more spanking (although again only the front row was free when I got to the boat so I was a bit afraid).
The next day we were hitchhiking from Placencia to Hopkins. Easy 2 hour 4 car hitch. Now I want to stay at least two nights here. And learn garifuna drumming.