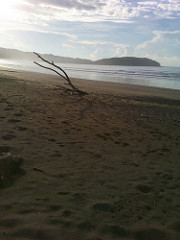 More than two weeks at Playa Venao were not expected. I meant to stay like for a week at max. But once I got the first lesson of surf and started feeling like at home at Eco Venao, the time started to go really fast. That place is just like a newly discovered paradise. For learning surfers for sure.
The beach is simply perfect. I even got to see a whale. Not to close, but not to far either.
I arrived just a day after a catamaran has crashed on the beach and as I was leaving the thing has been mostly disassembled and pulled out of sight.
I think that in 5 years it is going to be a real riviera of Panama. The real estate frenzy has already started. If I had a few hundred thousand dollars for investment, this place would be high on the list.