Originally this post just contained links to map and photos. But after the years I found it strange that the stories from this trip have not been written down. So in 2021 I decided to describe the trip from my memory. It might be a little bit exaggerated as these stories usually are after so many years.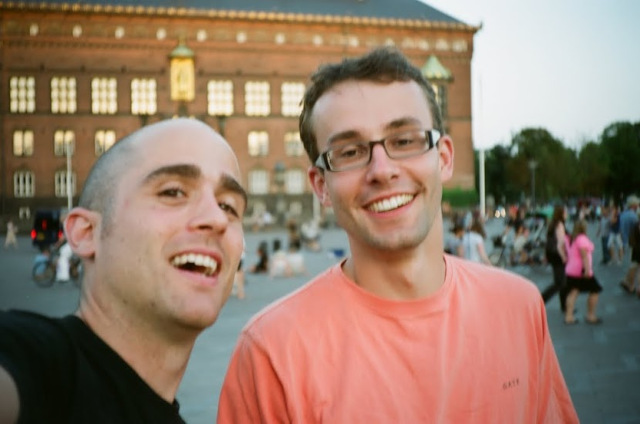 First week
Asier's friends planned their annual cycling trip in Denmark. Complete with booking hostels for every night in advance and all kinds of planning that neither I nor Asier are capable of. But we both decided to join the trip on last minute and hoped we could somehow squeeze with them or find cheap accommodation nearby.
When/if your browser processes JavaScript on this page, there will be interactive map here showing the track(s) in gpx file(s) listed underneath. Alternatively you can download them and open them in any gpx-viewing software you wish.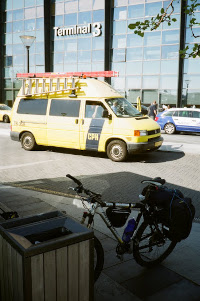 I flew into Copenhagen airport with Czech Airlines one way ticket and partially disassembled bike. At the airport I reassembled the bike and was preparing for an ugly ride downtown. I was expecting it to be ugly, because at that time there was no bike path to Prague airport and I expected Copenhagen to be the same. I started pedaling out of the main terminal car park, I joined quite busy road and was prepared to endure some nasty traffic for the next hour. A public transport bus was overtaking me, it slowed down, opened from door and the driver started shouting something in Danish. I apologized for not understanding Danish and he switched to fluent English - first surprise. Then he told me I should not ride the bike on the main road, but instead cross the road to left side and follow the bike path which will take me to the beach and downtown. Bike path! To the beach! And downtown! Seriously?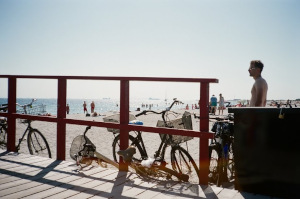 And he was right. I took a swim on the beach while watching the Oresund bridge in the distance. Then I continued downtown to wait for Asier and others. On the way I had to turn left on a normal crossroad once. I did it the same as usually, as a car would do it, but many cars were honking on me. Later I learned, that there is a different way to do left turns here - you slow down while rising your hand above head, then you stop on the right side in front of the cyclists that are coming from the right and who want to cross to left. Once the traffic lights change, you cross the street with them as if you came from the right also. Quite effective and safe, once you know how to do it.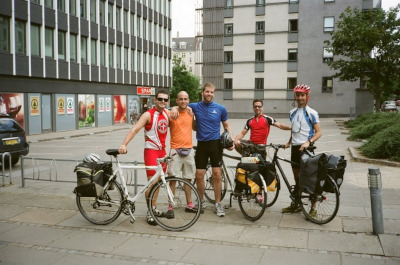 Once we were all, we started cycling around Denmark counter clockwise. First to Helsingor, then ferry hopping westward all the way to continental Denmark, then south and then back to Copenhagen. Sometimes we slept in high-school bike shed, sometimes in camping, always close to where the guys had prebooked the nights. Later I and Asier let the others for good and went to Copenhagen just us two. On this trip I for the first time took out a book that a colleague lent me before this trip. It was a book with extremely cheap accommodation in Denmark, but unfortunately it was in Danish only. We did not understand it, so at a bus station where we were getting of a bus and pulling our bikes out, there was a homeless man who we asked if he could translate part of the book for us.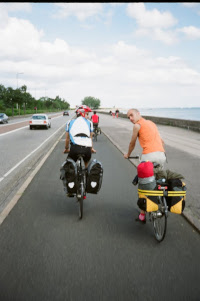 The homeless guy started reading the book, thought for a few seconds and then proceeded in almost versed Oxford level English to describe how we can find a cheap accommodation in someone's garden under their fruit trees. He also described how to get there and that we can use the garden even if the owners are not at home. It seemed a little surreal experience and I was not sure the homeless Shakespeare could be really trusted. But we found the garden, everything was according to the book, the owners were not at home for several weeks (there was a lot of mail on the doorsteps) and we had a nice night stay there and also ate some of the fruits there. I started trusting the book.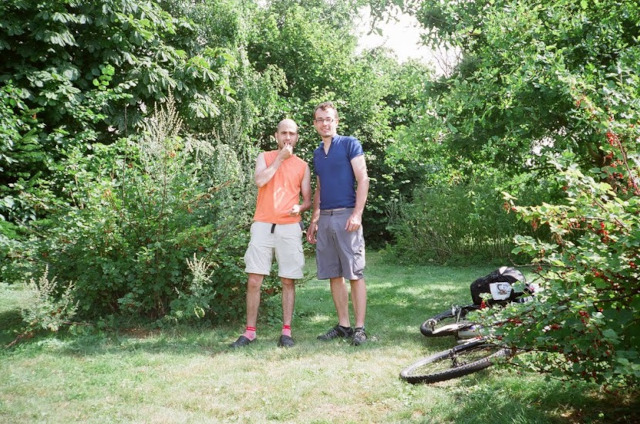 Later we finally reached back to Copenhagen. Asier's not-yet-wife-at-that-time Casey flew in and we met for the first time. But then I let them alone and waited for Honza, my Czech friend to arrive and join me for the second week.
Second week
When/if your browser processes JavaScript on this page, there will be interactive map here showing the track(s) in gpx file(s) listed underneath. Alternatively you can download them and open them in any gpx-viewing software you wish.
The day before Honza should fly in in the morning I consulted the cheap accommodation book again. There was a description of a wild camping place in Copenhagen, close to the airport somewhere in a big park. I did not understand the description and didn't find any homeless person to translate, but there was a small map attached so I went cycling in the area looking for similar crossroads as were on the small map. And I did find it: camping place with a dry toilet that had fresh toilet paper in, fireplace nearby and shelter to sleep in. I left all my cycling bags with all me belongings in nearby bush, went to party downtown to Cristiania and then later at night came back, recover my stuff and slept there. In the morning I packed and went to the airport to pick up Honza. Another big plus for the book.

After some little sightseeing we started cycling south. Honza was not really enthusiastic about the book in the beginning. We slept in normal accommodation too. But then the second evening I think we arrived to a peninsula which was all one huge camping. But that kind of camping with restaurants, showers, amusement park, cinema and what not. Also the price was like for a 5 star hotel. And also they were very arrogant and sure that we have no other option at 9pm to find anything else that we just got quite angry with them and decided we would rather sleep under bridge then paying in this camping. I pulled out the book and this time Honza was not protesting.
With a help of some passersby (not homeless this time) we got the translation and after some searching and getting lost we finally found the place. It was a small camp site with fireplace situated on the same peninsula as the big camp. But it was occupied by a gipsy family already. Now these were not real genetic gipsies, but were even more gipsy like than real gipsies. They actually came to this place with a horse pulled carriage. They had a few children and 2 horses with them. They were quite friendly and explained that they have a permission from the land owner to stay and that it is only possible for one group to stay. But there was a telephone number of the owner so we were not giving up just yet.
The owner of this little camping owns the whole peninsula and the posh camping and I don't know what. His rules are that only one group can stay at the small campsite, but as it was 10pm already and we explained we would only stay one night he finally agreed we can join the gipsies and stay.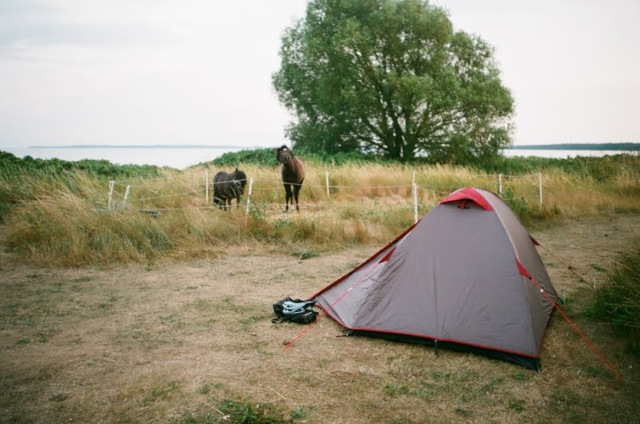 The gipsy kid injured herself so half of the gipsies left to hospital. But we spent a nice evening by fire chatting with the others, listening to their stories of how they traveled through all of Romania with their horse pulled carriage and how the real Romanian gipsies were absolutely stunned by this and always stopped by and inquired about the real gipsy lifestyle. Unforgettable night really.
The next day we decided we might finally cycle out of Denmark. But what a day to say good bye to this fantastic country.
We stopped for coffee. I ordered coffee with milk, but they ran out of milk. So I got the coffee for free.
Then we saw from great distance the ferry to Germany. We hurried for last few kilometers to catch it. Somehow we arrived at the ramp towards the ship and a guy with VHF radio stopped us and inquired for tickets. We didn't have any and somehow we missed the place where to buy them. The guy was surprised how could this be and explained there is no place to buy them on board. We must have looked too sad, so he spoke something on the radio and then informed us, that they will make an exception and let us board for free. Wow. And this Denmark-Germany ferry is one of the more expensive ones to take.
We boarded, let the bikes parked in the garage and went to buy some lunch. I took out a credit card to pay and they apologized that the card terminal is broken and that we can have the lunch for free. What a free ride day.
Most of Germany was normal long distance cycling. We saw some of the East-Germany ugly stuff, like the work camps, but also some nice scenery along the Havel river.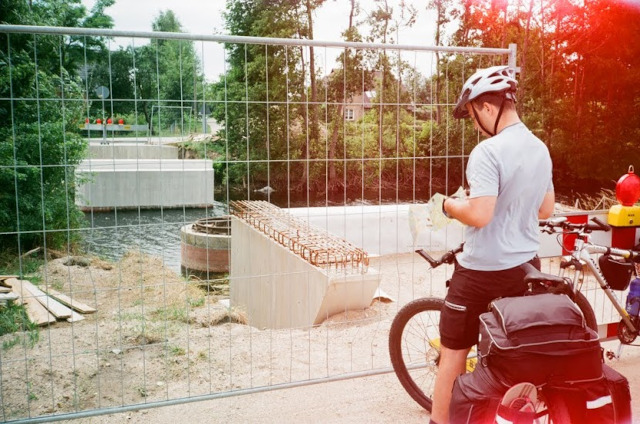 The last day we made a mapping mistake and missed the last bridge. For this we were trapped on the bank with no more camping sites till Berlin. So we decided to change the plan and reach Berlin one day earlier. We cycled with lights on and at 11pm we reached the Branibor gate. Then KFC and then we went to Bahnhof to buy tickets to go home.
They sold us tickets for us and the bikes for 4am. At 4am the train came, we put the bikes in and waited. Then came a lady who started shouting something. It was a bit like a Nazi film. I usually do not handle well when somebody shouts at me in German from 1 m distance. Also funny was that she refused to speak English, so dirty guy who was previously connecting the train cars together came to translate for her. In the end they threatened us, that every minute of delay more will cost us thousand euros and that we really have to leave. We left, went back to the ticket office where they were really apologizing for the unpleasant situation, but the train already left. After some searching we found a new connection with a little local train to Poland and from there to Czech Republic. We reached home after 20 hours and without sleeping that one night. I decided not to use Deutsche Bahn any more (or for a few years at least).